Sucker Rods: API Standard, High-Strength, and Corrosion Resistant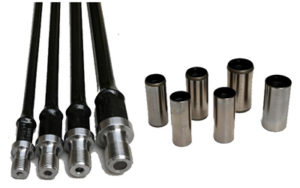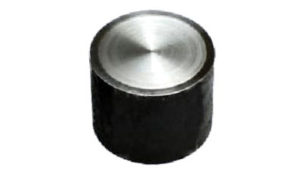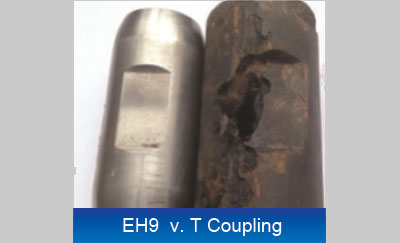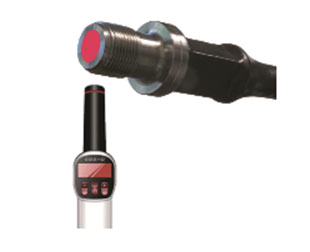 Exceed (Canada) is the Canadian division of Nine Ring Petroleum Machinery Co. Ltd. in China; the largest sucker rod manufacturer in the world (150 million ft per year).
Our 35 acre manufacturing facility is equipped with a fully automated production line and is 100% computer controlled. We are ISO 9001 and API certified and maintain 100% API compliance through consistent and rigorous inspection and monitoring programs.
Exceed offers a variety of innovative and advanced styles of sucker rod products that provide superior performance, even in the toughest downhole conditions. Exceed's pin and coupling threads are rolled and cold-forged for superior strength, and are either phosphated or copper-coated to avoid thread galling issues. We provide complete sucker rod solutions offered in the following product lines: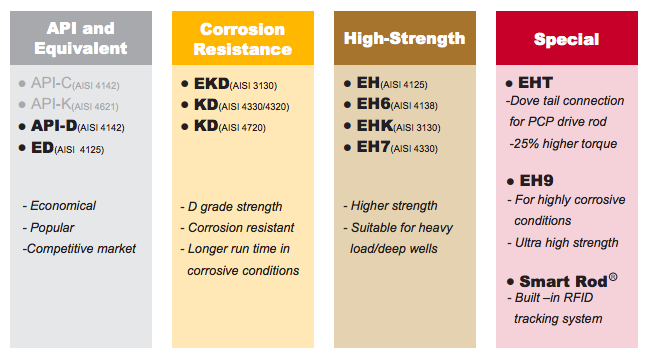 ED rod:
Smaller and stronger than traditional API D Grade rods
EKD rod:
D Grade strength for longer run times in corrosive conditions
EH rod:
Ultra-high strength suitable for heavy load/deep wells
EH9 SUCKER RODS REDEFINE ANTI-CORROSION
For corrosive wells, rod manufacturers normally rely on additional inhibiting chemical treatment in the well to ensure rod life. This approach often falls short in environments with high H2S, CO2 and bacteria concentrations.
After years of research and testing, our engineers refined special Chromium alloy steel with a significantly reduced Carbon content and a high Chromium content (11-12%) and developed EH9.
Significantly reduced Carbon content eliminates carbon-chromium compound precipitation along grain boundaries and improves the material's abrasion performance.
This new rod not only withstands extreme corrosion, it also delivers ultra-high tensile and fatigue performance, making it the rod of choice for the toughest wells. 
Smart Rod®:   Built-in RFID tracking system      
To help customers better manage their rod assets and improve operation efficiency, we developed the Smart-Rod technology. Each Smart-Rod has a RFID chip embedded inside the rod pin, giving it a unique ID that can be traced throughout the rod's life cycle.
A handheld reader can conveniently identify each rod during work over operations and asset management activities. Rod information collected, combined with the well information database, can then be used to guide decisions to confidently reuse, categorize and locate used sucker rods from a particular batch reliably and confidently.
Exceed Rods vs Industry Standard Chart
Exceed
Product Category
Steel
Tensile Strength (ksi)
Competitors' Product
D
API-D Grade
4142
120 - 140
API D / 78 [Norris]
ED
Improved API - D Grade
4125
126 - 145
None
KD
Corrosion Resistance
4320
120 - 140
90 [Norris]
Corrosion Resistance
4330
125 - 140
75 [Norris] / D Special [Tenaris]
Corrosion Resistance
4720
144 - 180
KD [Weatherford]
EKD
Corrosion Resistance
3130
140 - 150
S-87 [Weatherford]
EH
High Strength
4125
140 - 150
None
EH6
High Strength
4138
140 - 155
96 [Norris]
EH7
High Strength / Avg. Corrosion Resistance
4330
140 - 170
97 [Norris]
EHK
High Strength / Avg. Corrosion Resistance
3130
140 - 170
S-88 [Weatherford]
EH9
High Strength
High Corrosion Resistance
Stainless steel 11-12% Cr
140 - 170
None
EHT
PCP Rod (Dove tail connection)
4125
144 - 180
None
Sucker Rods are available in 25ft/26ft/30 ft. Pony Rods are available in 2, 4, 6, 8 10 and 12 ft. API standard connection.
Accessories
| | | | |
| --- | --- | --- | --- |
| COUPLINGS | POLISHED ROD | SINKER BARS | ROD GUIDE |
| Grade | Grade | Grade | Type |
| T/SM/HS | D, D-SM, High-strength | 1/2/3(C/K/D) | Various types available |
| Size | Diameter | Length | Size |
| Full/Slim | 1⅛" / 1¼"/ 1½" | 25 ′ /30 ′ | 2" / 2½" / 3" |
| Material | Material | Diameter | Material |
| 40 Cr | 4140 | All sizes 1¼" to 1¾" | PA6 |
| 4130 | 1045 | Material | PPA |
| 8630 | 25CrMoA | 1045 | |
| | | 4330 | |
| | | 4142 | |