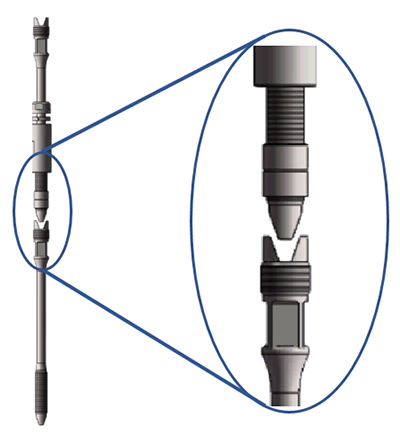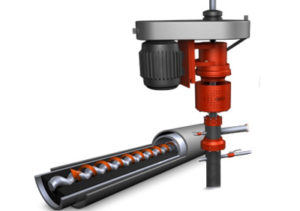 Exceed (Canada) is the Canadian division of Nine Ring Petroleum Machinery Co. Ltd. in China; the largest sucker rod manufacturer in the world (150 million ft per year).
Our 35 acre manufacturing facility is equipped with a fully automated production line and is 100% computer controlled. We are ISO 9001 and API certified and maintain 100% API compliance through consistent and rigorous inspection and monitoring programs.
Exceed offers a variety of innovative and advanced styles of sucker rod products that provide superior performance, even in the toughest downhole conditions. Exceed's pin and coupling threads are rolled and cold-forged for superior strength, and are either phosphated or copper-coated to avoid thread galling issues.
For progressive cavity pump (PCP) applications, Exceed provides the industry-recognized modified pin connection for all of our rod product lines. This downsized long pin connection provides higher torque transfer, less flow restriction, and longer fatigue life. Exceed also offers our patented dove-tail type of connection in our EHT category for transferring a higher torque with a downsized rod body to overcome slip/backspin issues.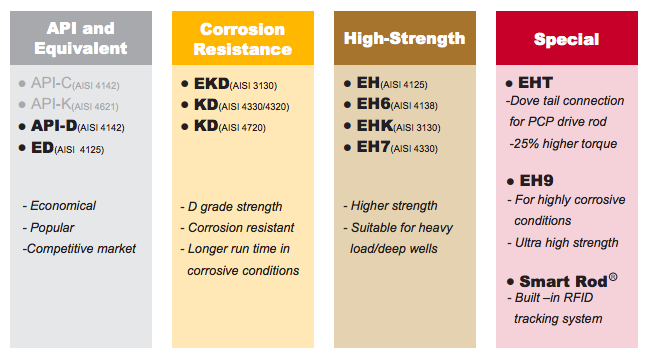 ED rod:
Smaller and stronger than traditional API D Grade rods
EKD rod:
D Grade strength for longer run times in corrosive conditions
EH rod:
Ultra-high strength suitable for heavy load/deep wells
EHT – DOVE-TAIL CONNECTION FOR PCP
Conventional approaches of adopting or modifying traditional sucker rods for PCP applications often came short in meeting the higher torque and other unique requirements of PCP.
In 2006, our engineers started research and development of a PCP specific rod. The current generation EHT features our patented locking dove-tail connection and case hardened rod body.
With this special dove-tail design, the torque is on the body; not on the thread which prevents slip/backspin issues. The case hardened rod body doubles its durability.
Overall, it offers 20-30% higher torque. Customers who switched to EHT have seen the benefits of reduced load, improved operating efficiency and lower failure rate.
Exceed Rods vs Industry Standard Chart
Exceed
Product Category
Steel
Tensile Strength (ksi)
Competitors' Product
D
API-D Grade
4142
120 - 140
API D / 78 [Norris]
ED
Improved API - D Grade
4125
126 - 145
None
KD
Corrosion Resistance
4320
120 - 140
90 [Norris]
Corrosion Resistance
4330
125 - 140
75 [Norris] / D Special [Tenaris]
Corrosion Resistance
4720
144 - 180
KD [Weatherford]
EKD
Corrosion Resistance
3130
140 - 150
S-87 [Weatherford]
EH
High Strength
4125
140 - 150
None
EH6
High Strength
4138
140 - 155
96 [Norris]
EH7
High Strength / Avg. Corrosion Resistance
4330
140 - 170
97 [Norris]
EHK
High Strength / Avg. Corrosion Resistance
3130
140 - 170
S-88 [Weatherford]
EH9
High Strength
High Corrosion Resistance
Stainless steel 11-12% Cr
140 - 170
None
EHT
PCP Rod (Dove tail connection)
4125
144 - 180
None
PCP Rods are available in 25ft/26ft/30 ft. Pony Rods are available in 2, 4, 6, 8 10 and 12 ft. Modified long pin connection.